J2Ski Snow Report 22nd December 2016
A little new snow in Europe, and more for America.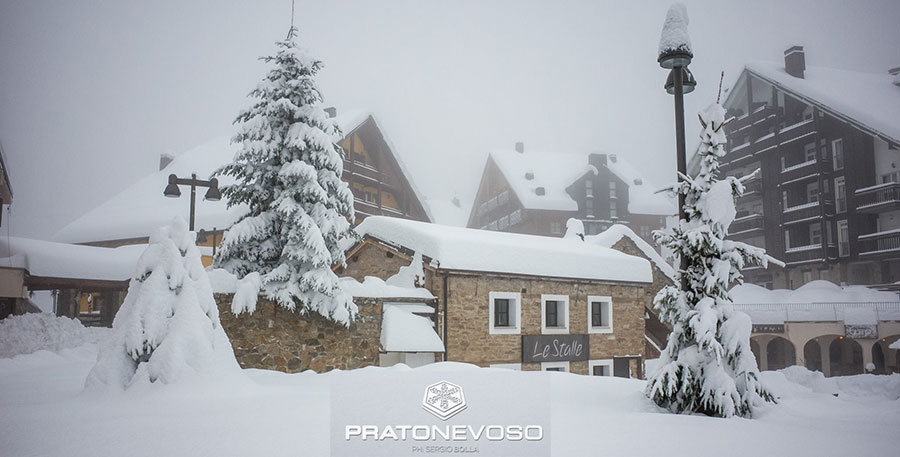 Prato Nevoso, Italy, with nearly 1 metre of fresh this week
This Week's Snow Headlines
- At last - snow in the Alps; not a lot in most places, but up to 80cm at a few.
- Still more heavy snow in North America - Jackson hole gets another 1m+ in a week.
- Snow starts to fall in Scotland, but a warm spell is forecast over Christmas.
- Mt Baker gets through the 6m/20 feet snowfall season-to-date mark.
- Conditions turning very cold and some strong winds in the Alps.
- A foot of snow for Cervinia and
Courmayeur
.
Not for the first time the big snow forecasts for the Alps that got us all excited at the weekend have not quite lived up to expectations. There has been
some
snow in many areas - 5-10cm in most cases rather than the 50-150cm some were forecasting for resorts like
Zermatt
- and that snow has freshened up pistes that had not seen fresh snow in a month.
A few locations on the French-Italian border got lucky, however, and have had some heavy snow, with several resorts reporting 50-80cm of snow this week.
If you're in north America or prepared to jump on a plane, you'll find deep powder this weekend in California, Colorado, Utah, Wyoming and BC with areas reporting up to another metre of snow falling.
There's fresh snow in Scotland and Scandinavia too, although it's not clear how long the Scottish snow will last.
J2Skiers (both staff and users) have skied at
Tignes
, Val d'Isere and Les Arcs in the past week and - although the off-piste is very limited - found great conditions on piste (a good base of old natural snow being freshened and extended by cannon snow). You can find photos in the
Snow Reports
area of our Forum.
In the Forecast
The European Alps are
still
under a high pressure system, although some weak fronts have been breaking in this week.
There is, as yet, no clear sign of the current weather breaking although further light snowfalls look possible in some areas this next week. Currently, the East (including Austria and parts of Switzerland) will benefit the most, although temperatures look like being a little above seasonal averages for the last week of December.
Going Skiiing? Please send us a Photo Snow Report!
If you're in the mountains, please show us your snow! Check
Snow Reports from Ski Resorts
for a quick and easy way to send us pictures, straight from your phone.
Find a Ski Buddy or Group
You can now easily share your plans, and find others going to the same ski area. See
Recent Ski Chat
and follow the
Who's Skiing Where, When
link.
Re-publication :- our Snow Report Summary, being the text above this line, is free to re-publish, but must be clearly credited to www.J2ski.com with text including "J2Ski Snow Report" linked to this page - thank you.
The Alps
Austria
Forecasts of 20-40cm of snow in Austria a week ago weren't too far out as 5-20cm has been recorded across much of the country in recent days and a similar amount is still expected through the rest of this week. It's still a bit touch and go at some ski areas like
Igls
or St Johann which still say they only have a 15cm/6 inch snow base on their upper runs, but hopefully cold weather and snow making will keep them in business until more snow does arrive. The best bases are mostly on the glaciers with 1m+ although
Schladming
reports 60-100cm.
France
France, alone of the big four ski nations, has seen almost no fresh snow and there's also little or none forecast at present. What snow there was, has tracked to the south – again, as forecast. There has been a dusting of snow in the northern Alps, freshening things up, but the powder dumps have been in Val Cenis, Bonneval and down at
Isola 2000
, the closest ski area to Nice on the Med, which have all had 25-35cm in the past 48 hours and are claiming powder conditions. As most French resorts are quite high and had good November snow, most of the big areas have top to bottom runs open, even if you're on to grass as soon as you step off the ski slope at the bottom of lower resorts. Most have around 60-150cm of cover on hard packed pistes, although Valfrejus has 290cm up top, about the deepest snowbase in Europe at present if true. Strong winds have also been a factor for skiers in France in the early part of this week with many areas having to partially close on Tuesday and
Courchevel
forced to cancel World Cup races half way through.
Italy
Italy has posted the biggest snow falls of the week and the only ones that have come close to the big dumps some forecasters were predicting at the weekend. A little known (to Brits) ski area in the northwest of the country,
Prato Nevoso
, has scored the biggest accumulation in Europe this week with 80cm in 72 hours. Nearby Alagna and Limone has also had large snowfalls. In the same area but further north around the
Aosta Valley
resorts like Cervinia and Courmayeur have had around a foot of snow, transforming conditions there.
Pila
, which has had 15cm of fresh snow, tops the snow depth tables in Italy with 2m on upper runs. Only a dusting of snow so far in the Dolomites – large areas are open thanks to snowmaking but the figures aren't impressive. Alta Badia, which managed to stage World Cup races last week, reports a 0-10cm snow base.
Switzerland
A similar picture in Switzerland where there have been some quite healthy snowfalls in some resorts in the East of the country, and little or nothing in the West.
Andermatt
is the biggest reported winner with over a foot of snow (35cm) in the last few days. Base depths are not great at some areas – 0-20cm at
Engelberg
for example, 0-10cm at
Grindelwald
or 2-28cm at
Davos
- these are some of the smallest margins for major ski areas anywhere in the world at present and there's not a lot of fresh snow in the forecast at present alas. There have also been the same stormy conditions this week - particularly on Tuesday – as in the French Alps with Crans Montana among resorts opting to close completely for the day.
Pyrenees
There's been quite a lot of snow in Andorra which has freshened up cover considerably – 5-10cm across the principality. Snow depths could still do with building up of course but generally 50-70% of terrain is open at each area. No fresh snow on the Spanish side but bases still holding up.
Eastern Europe
Little fresh snow in Eastern Europe this week but this is one part of Europe – at least resorts in Countries like Slovakia and Bulgaria – that may see 10-30cm over the coming week if the forecasts are correct. Base depths are OK for the area and the time of year in most cases after early December falls, bringing bases of 50-90cm in many areas on upper slopes.
Scandinavia
Not much fresh snow in Scandinavia this week but it has started snowing a little and existing cover means that most areas are fully open, or almost fully open, for Christmas week. There is snow starting to fall and some quite healthy accumulations expected in the coming week, particularly in Norway. That would be particularly welcomed at resorts like
Hemsedal
where after a strong start to the season a month ago when it opened early, bases are now at 25cm. Most areas have 40-80cm of cover (fine for the region) and 60-80% of terrain open (fine for the time of year).
Scotland
Extreme weather has begun to reach Scotland and is expected to get more severe over the Christmas weekend when Storm Barbara hits, bringing gales of up to 90mph, potentially, so the country's ski areas are bracing themselves. They're also hoping for a return of the snow, forecast to fall over the next few days. Whether it might be enough to open anywhere remains to be seen but just getting the hills back from their current green and brown to white would be something. However yo-yoing forecasts are predicting temperatures back up in double figures after Christmas Eve (according to the BBC) so any snow that does arrive may be short lived.
North America
Canada
Conditions are excellent across virtually all of Canada. This week has seen falls of 40-60cm in BC and more snow is expected across the country over the coming week -perhaps 20-40cm at most areas. Base depths are much better than they have been for a few years in the east with 1.2m at the base at Mont Ste Anne in Quebec for example. Whistler reported a foot of snow in 24 hours at the start of the week and
Revelstoke
has the deepest base in the country at 1.7m.
USA
The US has again topped them all this week and exceeded expectations on snowfall tallies with
Jackson Hole
reporting 1.2m (four feet) of fresh snow. It's one of several to now have a mid mountain base above the 2m mark. Mt Baker has passed the 3m/10 feet base mark and the 6m/20 feet of snow season-to-date stat too, the most in the world (again) so far. But besides these big numbers most resorts in the West have impressive enough base numbers for pre-Christmas and lots of powder after 30-60cm snowfalls in the past few days. The east still continues to look pretty good too with 50-90cm at
Stowe
in Vermont for example and though there has not been so much fresh snow this week in the region, the snow is still falling with another 10-20cm in the last few days.