J2Ski Snow Report 22nd February 2018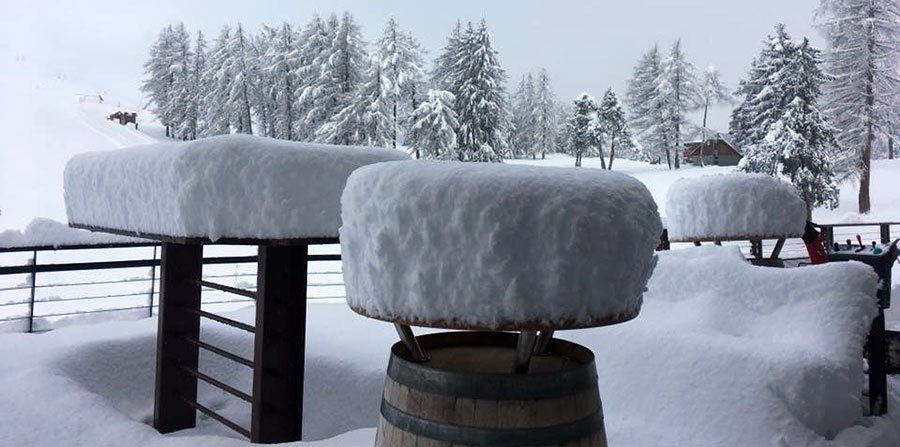 More snow fell in Bareges, French Pyrenees...
J2Ski Snow Report 22nd February 2018
Some heavy snow in the Pyrenees last week, with attention moving to the southern and western Alps this weekend.
This Week's Snow Headlines
- Deepest snow base depths now past 5 metres in Asia, Europe and North America.
- Up to a metre more snowfall in past week in parts of the French Pyrenees.
- Colorado and Utah skiing almost fully open with up to 1m (3 feet) new snow.
- Scottish ski areas enjoying increasingly good 17-18 ski season.
- Snow forecast for North West Italy through into the weekend.
The past week has been one of the quieter ones this season for snowfall in most of the world's major ski regions. In much of the alps and large swathes of North America there have been dry, sunny days more often than snowy ones.
That said some areas have seen snow falling. In Europe the Pyrenees, and in North America the Northwest of the continent, particularly around Washington State, have seen big snowfalls totalling up to a metre. The snow has been particularly welcome in Colorado and Utah which are finally almost fully open. Colorado are even offering cheap tickets on the famous ski train to Winter Park this weekend in celebration.
Back in Europe there was a little snow in the Alps before the weekend but otherwise the glorious sunshine on the slopes has been largely welcome as bases remain so good. More snow is coming up towards the coming weekend too.
In the Alpine Forecast
Widespread cold will be a feature of the coming week, accompanied by significant snowfall in some locations; particularly the very southernmost parts of both the Swiss Alps and the Italian Alps - with accumulations exceeding a metre expected in the latter.
Avalanche Risk
- there have been numerous avalanches, and some tragedies, in the past week and the risk in many areas will remain high with new snow arriving on already laden slopes. Take local advice before leaving the pistes and stay safe!

See when and where it's going to snow...
Re-publication :- our Snow Report Summary, being the text above this line, is free to re-publish, but must be clearly credited to www.J2ski.com with text including "J2Ski Snow Report" linked to this page - thank you.
EUROPEAN ALPS
Austria
A comparatively calm week on Austrian slopes with little fresh snow in the last seven days. Instead there have been plenty more great, sunny, blue sky days with superb snow conditions on Austrian slopes for those out there for half term. It's not been non-stop sun though, there have been cloudy days and the odd inch or two of snowfall. The
Pitztal
glacier is one of those to post 10cm of fresh snow since the weekend. Snow depths remain great across most of the country's ski slopes and incredible – at up to 5.95m (the
Kaunertal
glacier – that's nearly 20 feet) – on the high runs of the eight glacier resorts.
France
French ski centres have enjoyed mostly clear days over the past week and the week ahead is looking fairly similar. This has meant that most of the major centres have all (or almost all) of their runs opens and lifts operating. That's particularly good news with slopes still busy with half term skiers. There was some fresh snow at many areas just before the weekend, and unfortunately even a brief period of rain reported at resorts like
Flaine
but mostly it has been cold and clear. Down in the Pyrenees it's different with the snowy February continuing and more snowfall reported this week. In the Alps bases remain very deep with many resort's having 3-4m lying on upper slopes so it's a great end to February. The forecast is for similar weather in the week ahead with perhaps more unsettled weather and some fresh snow from the weekend but it's not yet clear how much (if any).
Italy
It has been mostly dry and generally sunny on Italian ski slopes in common with the other major Alpine skiing nations. Again almost every run is open and almost all of the country's ski lifts are operating so really conditions are fairly ideal. Base depths are healthy after December and January snowfalls with resorts reporting up to 4 metres of snow lying on upper runs – it's all good. Things may start to change, at least for some Italian destinations from Thursday though with snow expected to start falling again. The country's westerly ski areas and resorts like Limone and Prato Nevoso could get some big snowfalls through the weekend, with slightly smaller but still significant accumulations for areas further north like the Milky Way, if forecast models prove correct.
Switzerland
Swiss resorts too have been enjoying a largely sunny week with some really stunning conditions on the slopes. In most cases and at most times temperatures remain low so the snow is being maintained in good shape, despite the sunshine. Snow depths are exceptional with a number of Swiss resorts posting bases of more than 4.5 metres (15 feet) on upper slopes (
Andermatt
,
Laax
, Saas Fee) with
Engelberg
still posting the deepest base in the world at 645cm. The next few days look set to stay largely sunny before increasingly changeable weather begins to move in later this week, which may bring some fresh snowfall here too.
Scotland
It's been another good week in Scotland with 2018 building in to an ever better season north of the border. Although there have been a few warm afternoons this week the usual British weather problems off too much warm weather off the Atlantic and too strong gales have remained minimal-to-not-happening and all five Highland centres remain 80-100% open with a 30-60cm base and with plenty of cold mornings and sunny days. Fingers crossed it stays good in to March.
Pyrenees
The Pyrenees have continue to be the snowiest place in Europe – in terms of snowfall if not snow depth – in February. It has kept snowing here for much of the past week with most recently falls of up to 55cm in the past 36 hour in the French Pyrenees and sizable snowfalls to in Andorra and on the Spanish side of the mountains. 7 day totals have now reached 97cm (at Luz Ardiden) and base depths have gone above the three metre/ten feet mark on upper slopes at several centres. More snow is forecast.
Scandinavia
Snowfall has slowed in Scandinavia compared to a week ago, and indeed much of the season to date, with the biggest accumulations reported only a few inches, and many areas not adding anything to their bases in the past seven days. Slope conditions remain generally good though as here too base depths have built over the past 3-4 months so there's plenty to enjoy with clear conditions on the slopes. It's looking cold over the week ahead with more snow forecast in to the weekend.
Eastern Europe
No new snow reported in Eastern Europe over the past week either but snow depths are again fairly good almost everywhere with most of the regions runs open and lifts operating. In Bulgaria
Bansko
continues to post the deepest base at 30-170cm with all lifts operating and 80% of its slopes skiable.
North America
Canada
It has not been snowing quite so much in Canada this week as the rest of February but most resorts in Alberta and BC are still claiming conditions to be "powder" each morning. Resorts in the area typically have 2-3m base depths and with sunny skies, it's great, if cold, on their slopes. Things are not so good in the East where plus temperatures in Quebec and Ontario have been spoiling conditions rather.
USA
It has been a snowy week in North Western USA with ski areas in states like Idaho, Montana, Washington, Wyoming and Oregon all reporting big new accumulations of up to 1.5m (Mt Baker) or more commonly 60-90cm. In the major ski states both Colorado and Utah have done well, continuing to move towards a snowy end to the season after the lacklustre start – Park City, the country's biggest area now has 289 of its 347 runs open, the most this winter, and 40 of its 41 lifts turning. Things are not looking quite so good in the East, there was a few inches of fresh snow on ski slopes in Vermont and other areas at the weekend but it has now warmed up rather more than most would like.