J2Ski Snow Report 19th December 2019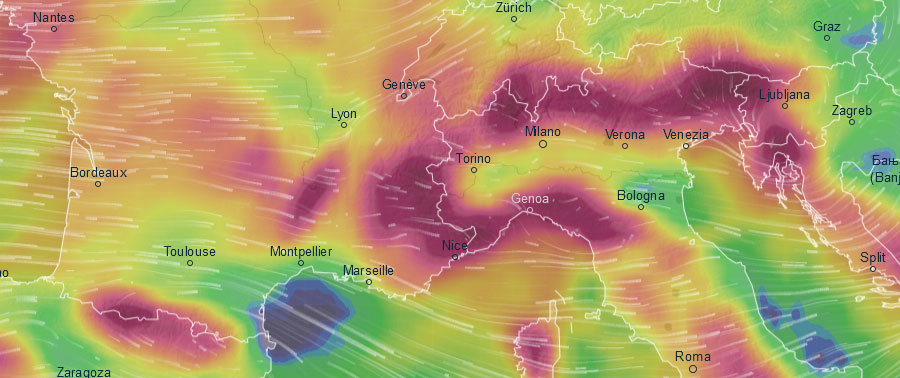 Forecast snow accumulations (purple is lots!) to Sunday, courtesy of Ventusky
Merry Christmas to you and yours; may it bring you snow in abundance!
The Snow Headlines - 19th December
- Over a metre of snow for some resorts in the Alps through last week.
- Conditions impacted by weekend rain up to 1600m and strong winds at times.
- Big snowfalls expected in parts of the Alps and Pyrenees to end the week.
- Heavy snowfall in much of western North America (more than a metre in places).
- Avalanche Risk Levels rise to 3 and 4 (of 5) with heavy snow, rain and wind.
- Snow at last for
Whistler Blackcomb
but totals still down on usual averages.
With the crucial Christmas / New Year fortnight upon us, and indeed the start of 'astronomical winter', the good news is that most of the world's leading ski areas are in great shape.
Conditions do look good, especially above about 1800 metres, and much better than they have for Christmas week in several years recently. The deepest bases in the Alps are at 3-4 metres with most resorts posting at least 1-2 metres.
There's been more snow in the past week and more is on the way to end this week. It's also looking good in the Dolomites, Pyrenees and Scandinavia and all five Scottish Highland ski centres have at least some terrain open.
Travel! Heavy snow may cause disruption in places this weekend, particularly on Sunday, and early next week - be prepared and stay safe!
Being the mountains, it's not complete perfection! The heavy snow last weekend was accompanied by gales and at times rain fell in the western alps up to quite high altitudes which rather made a mess of the fresh off-piste powder once it froze on top. It also set avalanche danger levels heading towards the upper end of the scale.
Whilst most regions look good, a few less so. These include lower altitude areas in the Alps, where snowfall below 1500 metres remains limited, and parts of eastern Europe where temperatures have crept up to double figures above zero this past week – not good for snow cover, snowfall or even snow-making.
Across the Atlantic, there have been more big snowfalls for California, Utah and Colorado as well as snow in New England. It's a slightly mixed picture as the continent's Pacific Northwest region, home to Whistler Blackcomb, is way behind its snowfall averages with only 90cm so far this season and still has little terrain open, though there's more snow forecast. It's a similar picture on the opposite coast in Quebec, where it has also been too warm, though in the middle resorts in Alberta and western BC are having a great early season with tonnes of snow and low temps.
The worst news is coming from Japan where the warm and wet autumn is dragging on and the long-awaited started of the standard snowy Japanese winter which appeared to be with us a week or so back has now stalled.
In the Alpine Forecast

Some big snow in the forecast for France...
Re-publication :- our Snow Report Summary, being the text above this line, is free to re-publish, but must be clearly credited to www.J2ski.com with text including "J2Ski Snow Report" linked to this page - thank you.
EUROPEAN ALPS
Austria
It has been a little warm again down in Austrian Valleys with Kitzbuhel seeing temperatures above +10C, whilst up high the situation is reversed with -15C reported on the slopes.
The weather has been sunny and it has not been so snowy in recent weeks as it has been further west, but the big November snowstorms continue to pay dividends as the country's glacier areas have snow lying 2-3 metres deep, whilst larger, lower areas like the
SkiWelt
,
Saalbach Hinterglemm
and Kitzbuhel have thinner cover (5-55cm at Kitzbuhel for example) but most of their runs and lifts open for Christmas.
There's some snow in the forecast for Thursday to Saturday with 20-40cm possible but heavier falls are forecast for the south and east of the country and up on the glaciers.
France
A fairly good week for snow in the French Alps although mixed with the negatives mentioned in our intro – including rain reported to quite high altitudes and severe gales bringing blizzard conditions leading to FIS World cup racing being cancelled in Val d'Isere on Saturday.
Henry's Avalanche Talks, based in the resort, say the avalanche danger is close to its highest level as a result. On the other hand, snow depths are great for the start of Christmas and most resorts have most runs now open and overall it is indeed one of the best French Christmas snow reports we've written for many years!
There's some snowfall forecast for the French Alps in the run-up to the weekend with heavier snow forecast on Friday and resorts in the Southern Alps including
Isola 2000
and
Serre Chevalier
likely to see the biggest falls.
Italy
Italy got some of the biggest November snowfalls and through December has been home to the deepest snow base reported anywhere in the world so far this season – 4 metres lying on the
Presena
Glacier in Trentino.
December has not been so snowy in the country and other than some sizeable accumulations along the western border with France (
Aosta Valley
) last week, there wasn't a lot of fresh snow to report.
That should be set to change over the coming 48 hours with Italian resorts in line for some serious snowfall with potentially 40-60cm of snow across a wide area and some resorts possibly seeing a metre of snowfall in total by Sunday – the biggest snow forecasts anywhere in the world in the Christmas run-up.
Switzerland
Conditions continue to look largely good in Switzerland and the country will be seeing more big snowfalls to end the week. Ski areas here saw up to a metre of snow in the two storms last week although it was reported to be raining in Crans Montana at 1500m on Saturday After a snowy start to the week and temperatures stayed above freezing.
Very heavy snowfall is expected to hit central and Eastern Swiss ski areas to end this week with 50-60cm accumulations possible at resorts like
Andermatt
, St Moritz,
Saas-Fee
and
Zermatt
as we come into the weekend.
There'll be snow in the West of the country too but more like 20-40cm here if forecast prove correct.
Scandinavia
Conditions continue to look good in Scandinavia with generally low temperatures and plenty of snow falling – albeit generally the fine Scandinavian powder that's great to ski but doesn't add up to much.
The heaviest falls have continued to be along Norway's West coast where
Voss
has had several feet more snowfall. There's no sign of any change ahead with Beitstolen, also in Norway, forecast to get another 30-cm or so by Saturday.
Pyrenees
Conditions continue to improve in the Pyrenees with Vallnord now reporting base depths of up to a metre and that all 40+ lifts are operating. It's a similar picture across the mountains with plenty of fresh snowfall this week and more on the way – 30-40cm is widely forecast leading into the weekend with the heaviest snow expected on Friday.
Spain's Baqueira Beret has the deepest base in the region at 1.7 metres (nearly six feet) and has virtually all of its terrain open with 160km of trails open.
Grandvalira
in Andorra, which has the biggest area in the Pyrenees, has about 80% of its runs skiable this season to date.
Scotland
It's beginning to look a lot like winter again in Scotland after the false start in November. Temperatures are still fluctuating a little but are generally staying sub-zero, or at worst only creeping a few degrees above freezing.
There have been several moderate snowstorms and all five Highland area expect to be open this weekend in time for the busy Christmas holidays. There's not yet enough snow for most of the centres to open a large amount of terrain with
Glencoe
perhaps offering the most. All five areas have all-weather snow-making so the small sections of slope covered by these have the deepest cover and are often used for snow fun like tubing as well as beginner lessons and in Cairngorm's case at least a small terrain park.
Eastern Europe
A mixed picture across Eastern Europe as more areas open for the season here too. Alas, Bulgaria has had a block of warm air sat over it and temperatures in
Bansko
were in double digits above freezing earlier this week, although the resort still reports 10-80cm lying. It is getting colder, on the mountain at least and rain/snow is expected from Sunday.
Elsewhere there has been snow further north and west in Slovenia, Slovakia, the Czech Republic and Poland although here too the best snow so far is up high.
North America
Canada
Conditions have been improving across Western Canada. They were already good on the Eastern side of BC and in Alberta, but temperatures have finally dropped a little on the Pacific coast too, and there has been some natural snowfall.
Inland it remains better though, with
Revelstoke
having had more than 3 metres of snowfall already this season and 25cm in 24 hours on Tuesday/Wednesday this week. Compare that to Whistler with less than a metre so far and still only a small part of its terrain open with Christmas looming. The good news is there's more snow on the way here – not yet enough to transform the winter but certainly enough by the weekend for a considerable improvement.
It's a similar picture in the East at Quebec where many resorts have been struggling with warm weather and little snow too.
Mont Sutton
was excited to get 15cm on Wednesday morning and reports 6 of its 60 trails now open.
USA
Quite a busy weather week in the US with some huge snowstorms at the weekend in California, Colorado and Utah building bases there by several feet.
Several resorts in California now report they've had more than 10 feet (three metres) of snowfall this season – much of it in the last three weeks after a mostly dry and warm November.
All the snow has caused some operational difficulties and reports of avalanches at or near
Park City
and
Steamboat
resorts, the first resulting in a fatality, the second a rescue. There's also been an "Arctic blast" in the East bringing snow there.
The Pacific northwest which had been too warm and wet up to now is now getting dumped on (the mountains at least). Mt Baker in Washington state, which is on average the world's snowiest ski area most winters but which had had very little snowfall to date, is on course to see huge accumulations over the coming week, forecasters believe.
Until next week... have a great Christmas Day, safe travels and bon ski...