J2Ski Solstice Snow Report - 19th June 2020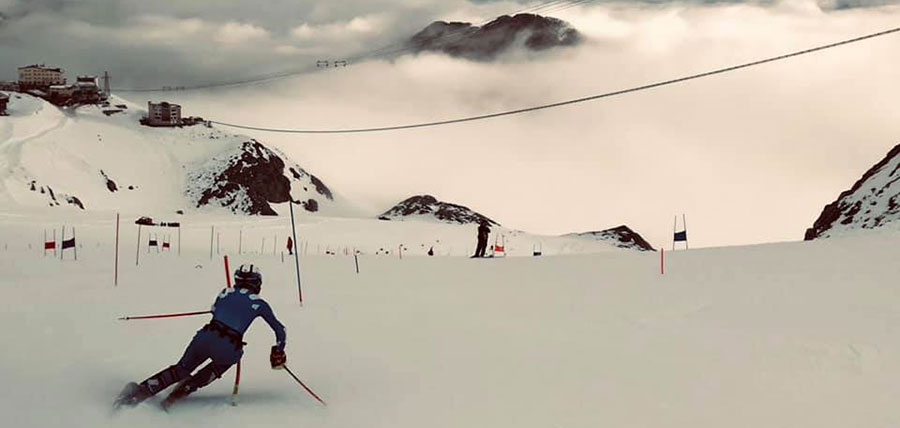 We love this atmospheric shot from Passo Stelvio this week. Picture thanks to Phil Smith, Snoworks.
June 20th is the solstice; the longest day of the year for the northen hemisphere (and the shortest in the southern). So here's a quick update as the seasons turn...
The Snow Headlines - 1st June
- Ski areas open on five continents for the 2020 summer solstice.
- Skiing under the midnight sun in the Arctic Circle to be broadcast on Swedish TV
- Fresh snowfall for the start of summer skiing in the US.
- 2020 southern hemisphere ski season underway in Africa and New Zealand.
- Ski areas have re-opened in France, Italy and Switzerland this month.
- No winter solstice skiing in the Andes his year.
- Australian ski areas prepare to open.
After the strangeness of the last few months, with more ski areas open in May than there were for Easter, there are now around 20 centres on five continents open for midsummer (or midwinter) skiing.
We can also report that it has been snowing on three of those continents in the past week too in both northern and southern hemispheres with snow reported up high in the Alps and Pyrenees, the Rockies and in New Zealand. There's also been snow on a fourth continent - South America - but alas this year there's nowhere open there yet.
Along with a good spread of continents with open ski areas, there's a big range of countries too with resorts open in 10 different countries; the most (three each) in Austria and Norway ...although they'll soon be overtaken by Australia and New Zealand with about 20 more areas due to open in the next week.
The final observation (before we go into detail) is how different areas in different countries are operating in the pandemic. Most, but not all, are limiting the numbers on the slopes, requiring the advanced online purchase of lit tickets, social distancing in resorts, stepping up hygiene and so on. But in Lesotho, New Zealand and Switzerland they are not limiting the numbers on the mountains and in New Zealand there's also no need for social distancing or face masks as they currently have the pandemic suppressed there.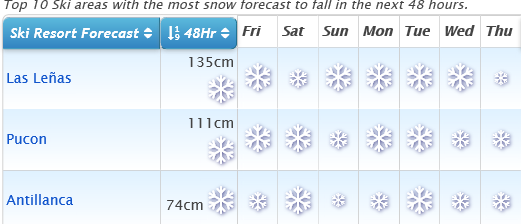 Snow for South America... although the resorts are shut...
Re-publication :- our Snow Report Summary, being the text above this line, is free to re-publish, but must be clearly credited to www.J2ski.com with text including "J2Ski Snow Report" linked to this page - thank you.
EUROPEAN ALPS
After Austrian ski areas began re-opening as lockdowns eased in Europe at the end of May things have moved quickly and as of Saturday, 20th June, there will be eight glaciers open in the Alps. Borders have also re-opened within the EU in the past few days, although travelling from outwith the EU remains problematic, particularly from the UK, where officially all but essential travel is not allowed anyway.
These are three glaciers open in Austria (
Hintertux
, Molltal and the Kizsteinhorn), two to the public in France (
Tignes
and Val d'Isere, with Les 2 Alps open for race training only but open to the public from the 27th), two in Italy (Passo Stelvio and Cervinia) and one in Switzerland (
Zermatt
).
Cervinia and Tignes are the latest to reopen, on the 20th, Cervinia saying they'll be staying open later in the year than usual, for three months through to the 27th September. Oh, and we must not forget Austria's
Kaunertal
glacier and Crans Montana in Switzerland have already re-opened and then closed again.
As to the snow – well conditions are pretty good. It is of course summer skiing so the usual rules of start early and be finished by lunchtime apply, but recent weeks have seen some unusually cold weather for June and fresh snow on the glaciers. With lifts re-opened at many of the classic resorts of the alps like
Chamonix
that don't officially offer summer skiing, some die-hards have been using them to access the remaining off-piste ski touring too.
Northern Europe
We are down to the three glacier ski areas in Norway now open, with the last, Stryn, finally opening a week ago and two weeks later than planned, after delays digging out its access road following heavier than usual winter and spring snowfalls. This has left the snow still lying more than 10 metres deep at another of the areas, Fonna. The third open area is Scandinavia's highest, Galdhopiggen.
For this weekend only, Riksgransen in the Swedish Arctic Circle has re-opened for three days of skiing and boarding – Friday to Sunday 19-21 June over the summer solstice. It's a traditional event, with the resort re-opening about a month after ending its main season. Usually, it sells out well in advance but this year it's a little more muted due to the virus.
However, the highlight, skiing under the midnight sun into the summer solstice on Midsummer's Eve (Friday into Saturday) is on the agenda. This year the resort will broadcast live video of the event on its Facebook page and VisitSweden are planning to stream it too.
North America
The US began June with four ski areas open and there were hopes that summer skiing might take place at Whistler and that resorts that quite often offer skiing into June and July like Mammoth and squaw Valley might reopen their slopes. That hasn't happened though and two of the areas,
Arapahoe Basin
and crystal Mountain had closed again a week into June.
So we are left with two still-open areas, the
Timberline
snowfield on Mt Hood in Oregon and the Beartooth Basin summer ski area just inside Wyoming on the Montana border. Both have actually seen fresh snowfall in the past week and the access road to Beartooth was cut off by snow at one point. However, it has warned that its short season is nearing its end as trees and rocks begin to appear through the snow. It says it will open over the summer solstice but after that will delay operations by the day.
Asia
We're down to Japan's sole summer ski area, Gassan, as the only ski area open in the country, at least with snow (a 1km long artificial surface ski slope opens from Saturday 20th June at
Nozawa Onsen
).
Gassan is not like your standard glacier, it just opens in early April with a huge snow depth (8 metres this year) and stays open until the snow thaws away, usually by late July. Right now more than half has gone, down to 4.2 metres lying with temperatures reaching +20C.
Southern Hemisphere
There are definitely not as many ski areas open in the southern hemisphere as there would normally be for the start of winter.
Around a dozen Australian areas would usually have opened in early June, at least half-a-dozen by now in New Zealand and quite a few in the Andes as well as southern Africa too.
As it is we only have two areas open so far, thanks to the virus, but a good many more are scheduled to open in Australia and New Zealand over the last week or so of June, perhaps hitting double figures by the start of July.
Let's look at the positives first. Only a month or so ago it was unclear whether ski areas in the southern hemisphere would be able to open at all this winter. Whilst that's still the case for South America and South Africa, the lockdown in New Zealand has eased to such an extent that ski areas there are able to open without even requiring social distancing or face masks required to be worn. Australian ski areas will have those now common restrictions when they open over the next few days – a fortnight later than usual but earlier than the previously hoped for base-case-scenario of July.
For Australia, the big opening days are this Monday 22nd and Wednesday 24th June when most resorts in the country will open.
For New Zealand most of the country's larger centres will open around next weekend:
Cardrona
,
Coronet Peak
and Porters all aim to open on Friday 26th,
Treble Cone
and
Turoa
the next day Saturday 27th.
But the first area to open in the event was little Afriski in Lesotho. Like New Zealand and most other countries in the southern hemisphere the borders remain closed, and as it's heavily reliant on South African skiers that's not good news financially (as indeed is the case with the ongoing closure of South Africa's own ski area, Tiffindell, for everyone living there). So local skiers have the slopes to themselves, making use of a newly expanded snowmaking system that has been pumping out snow during low temperatures through June.
As for snow conditions everywhere else, the past week has seen some heavy snowfall in both the Andes and New Zealand, with up to 50cm reported in 24 hours at the latter, great news with resorts opening imminently.
In the Andes, the snowfall has been rather more frustrating with no sign as to when areas might be able to open there with cases of the virus sill rising and lockdowns remaining in place. One famous ski area in Chile,
Portillo
, has set its opening date back a month to July 18th, although it remains unclear if it will be able to open then. Others including Nevados de Chillan are warning a growing number of backcountry skiers on their slopes that no avalanche mitigation work is being carried out and there's no ski patrol around to provide emergency assistance if any accidents happen. It's a very similar picture to that in Europe and North America a month or so back when the lockdown was at is height in the spring skiing season.
We'll be back next month, with the days getting shorter in the North!