J2Ski Snow Report 1st August 2020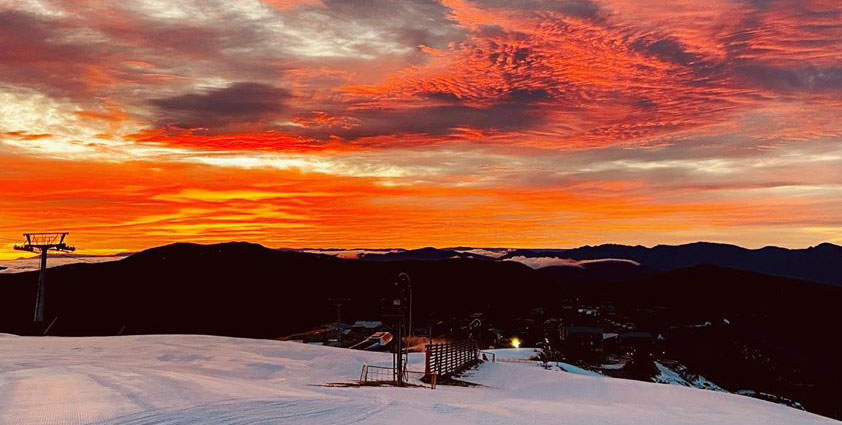 Mount Buller doesn't just have snow... they have sunsets too!
Ski resorts open on 6 continents? Yes, really, but sadly not many.
The mountains are waiting for most of us... stay safe and follow your local authority's advice on travel. We can't all go skiing just yet but we can still read about it!
The Snow Headlines - 1st August
- 2020 ski season gets underway at last in South America.
- Snow depths in the Andes reported to be as much as 5 metres - at virus-closed areas.
- 8 Ski areas open for August in Europe.
- July ends with ski areas open on six continents.
- New Zealand has most ski areas open of any one country.
- World's most southerly ski resort opens August 1st.
- Largest ski area open is in Australia, with 60km at
Perisher
.
- Chile and South African ski areas still closed by pandemic lockdown.
Our strange year continues with more ski areas open in August than there were in the previous three months as pandemic restrictions are lifted. Before we celebrate however, it's worth noting that the total of 40-50 ski areas that are open is around half the normal number.
Sadly pandemic lockdowns continue into August in hard-hit Chile and South Africa and ski areas in Argentina have barely opened too.
That said with Catedral in Argentina opening to locals for the final week of July, it did mean ski areas were open on six continents to end July with one area each in Africa, Asia and North America and more in Europe and Oceania/Australia.
The pandemic continues to impact open ski areas differently.
In Australia vigilance levels seem very high with police reported to be running spot checks on social distancing at some resorts and issuing fines to those deemed too close. By contrast, reports from the French and Swiss Alps seem to indicate skiers are left to self-regulate and whilst indoor mask-wearing is now a legal requirement in many glacier resorts, the initial requirements to socially distance different groups on lifts seems to be quietly forgotten.
Meanwhile, operations are fairly 'normal' in (hopefully still at your time of reading) virus-free Lesotho and New Zealand. The issue in both nations is a shortage of skiers and boarders, with international borders largely closed except for those who can afford a fortnight's isolation on arrival.
In Europe, August has become one of the quieter months of the year with the number of glacier resorts open dropping to single figures from 20+ a decade or two ago. There are half-a-dozen glaciers open in the Alps now and a few more in Scandinavia through what is usually the hottest period of the year. As soon as things start to cool in September those numbers should double as more glaciers open, or re-open.
So far, touch wood, summer 2020 isn't looking too bad for snow cover with most glaciers having at least a metre of snow cover and many double that, so hopefully this August will see most stay open.

Snow for South America...
Re-publication :- our Snow Report Summary, being the text above this line, is free to re-publish, but must be clearly credited to www.J2ski.com with text including "J2Ski Snow Report" linked to this page - thank you.
EUROPEAN ALPS
There are seven glaciers open in the Alps as we begin August 2020, but one of these,
Tignes
, is due to close this weekend, before re-opening at the end of September (hopefully) to maintain its aim of being open for snowsports for at least a day of every month of this year.
That hasn't happened in recent years, usually due to lack of adequate snow cover at key times (such as late September) on the glacier, and this year of course because of the virus.
Les 2 Alpes is due to stay open through the month though and reports a two-metre snow depth at the start so this could be the first time for a few years it will manage to make it through.
Austria
The
Kitzsteinhorn
glacier above
Kaprun
ended its 2020 post-pandemic-lockdown re-opening in late July, but the year-round
Hintertux
(2.2-metre base), as well as the Molltal (2.4-metre base) glaciers, are open through August (and indeed through to 2021). The Molltal has been heavily promoting a new summer snowpark in recent weeks.
Italy
In Italy the main ski area open, and popular for international team training (despite a reported few cases of COVID 19 there in June) is Passo Stelvio, which normally stays open through to the end of October. It did not report any snowfall in July but has nearly 2 metres of snow lying and most of its runs open.
Cervinia also provides ski lift access to the slopes on the Swiss side of the border above
Zermatt
until early September. Access to the Klein Matterhorn's 'Glacier Paradise' is open year-round (pandemic permitting) from the Swiss side but is reported to be faster from the resort for those based in Cervinia when access is open. For the start of August, the snow is reported to be lying a pretty healthy 2.2 metres deep and there are around 15km of runs open.
Switzerland
Last month Zermatt was joined by
Saas-Fee
as a second Swiss summer skiing option, and like its neighbour now open through to next year. It's popular for race team training too, like Stelvio, and reports good August conditions this year. Saas-Fee has marginally the deepest base in the Alps right now at 2.5 metres.
Scandinavia
Fonna still has the world's deepest base at 6 metres (20 feet) of snow depth, but that's down 10 metres, nearly, from when it opened in the spring with an incredible 15 metres of snow that road-clearing crews had to dig through. Still, it's more than double anywhere else currently open – although some resorts in Chile would come close now if they could open.
It and Scandinavia's highest ski area, Galdhopiggen, plan to stay open through August and should have enough snow cover to be able to do so (as with the Alps, that's not always the case by August).
North America
As is often the case, only the
Timberline
ski area on Mount Hood in Oregon remains open in North America through July. It has been reporting a 90cm base and a couple of miles of slopes open on its permanent snowfield for most of July, with no change to the posted snow depth despite warm temperatures and weeks of full sun. It should be open through to early September.
Copper Mountain in Colorado also has a little snow left for people staying there for race or terrain park training camps, not recreational skiers.
Asia
Japan's Gassan ski area was still open on the last day of July but to ski tourers only as it has stopped running its lifts for the season. It reports a 150cm base and some good skiing – albeit with occasional rocks and temperatures of 20C+ for those prepared to make the effort.
Southern Hemisphere
We're about half-way through the southern hemisphere's 2020 ski season and it's far from a normal one, unsurprisingly.
In terms of the snowfall to date it's a great winter in the Andes with the snow now lying up to 5 metres deep; things are not too bad in New Zealand after some good late July snowfalls there, but Australia and southern African ski areas are currently below average.
In terms of the virus, it's a terrible winter in the Andes with most South American ski areas still closed. One has now reopened in Argentina for local skiers; New Zealand and Lesotho are operating fairly normally but with fewer skiers as the pandemic has closed their borders to international arrivals; Australian ski areas are either closed or operating at 50% capacity to prevent over-crowding and ski areas in hard-hit Chile and South Africa remain in lockdown.
In South America, it is unclear whether ski areas in Chile will be able to open at all in 2020 now. The signs aren't great and time is beginning to run out, but they still seem optimistic, officially at least. It would have been an epic winter as cold weather and heavy snowfall through winter so far has left the snow lying 5 meres deep at several areas including
Portillo
.
Argentina
There have been glimmers of light in Argentina which has a fraction of the cases and deaths of Chile and has been carefully easing its lockdown in recent weeks on a regional basis.
Cerro Castor
in the south near Tierra de Fuego re-opened at weekends since mid—July but initially wasn't running ski lifts, just opening its ice rink and cross-country rails. However it announced on July 29th that the lifts would run and downhill slopes open, for locals only, five days per week from August 1st.
In the meantime the continent's biggest area by uplift, Cerro Catedral near
Bariloche
, re-opened to locals in the last days of July and reports 2 metres of snow lying and about 40km of trails open. A third Argentinian ski area,
Cerro Bayo
, has also announced its slope opening for local skiers from Saturday, 1st August.
Another major Argentinian ski area, Las Lenas, announced early in the pandemic and way before the ski season was due to start, that it wouldn't be opening in 2020 whatever happened.
New Zealand
In New Zealand, it's a fairly good ski season overall. Snow cover was sketchy in early July but recent falls mean most areas now have adequate to good cover and are close to fully open in terms of terrain. The concern remains a lack of skiers with international borders still closed. That's been offset to some extent by a national effort to get people to support their local hills and some areas reported record business and operating capacity reached early in the day during peak July school holiday weeks. That's now eased off though and resorts are hoping people will keep coming.
Australia
Australia's season has continued to scrape along through July, partly due to the pandemic but also due to limited snowfalls so far.
Victoria
has been hardest hit in both respects, with little snow cover and a surge in virus cases leading to the state's borders being closed and
Vail
Resorts deciding to close its Mount
Hotham
and
Falls Creek
ski areas (although the resorts themselves have stayed open, offering winter activities including backcountry skiing – it's just no uplift).
Vail does say they'll review this decision before the final week of August so they may be open by the end of the month.
Mount Buller
and
Mount Baw Baw
have stayed open but with very limited cover to start august, and Baw Baw only opening weekends.
Things are better in New South Wales with Perisher starting August with 60km of its 100km of runs open – giving it more skiable terrain than any other resort on the planet at present. It and
Thredbo
both have nearly a metre of snow lying on upper runs, better than other parts of the country too.
Africa
In Southern Africa Afriski in Lesotho has clocked up two months operating and ends its season at the end of August. It has a similar problem to ski areas in New Zealand; actually a worse one, as it relies on South African skiers for the majority of is business and the border remains closed. Lesotho, like New Zealand, has largely suppressed the virus. Afriski has a 600-metre main slope of machine-made snow, but sadly not many skiers on it.
In South Africa itself Tiffindell is unable to open and it now sadly looks unlikely it will have a 2020 ski season. Both centres reported some good snowfalls as a blizzard blew through in late July but otherwise it has been sunny and dry, but generally cool.
Until next month, stay safe and keep the faith!