J2Ski Snow Report 1st October 2021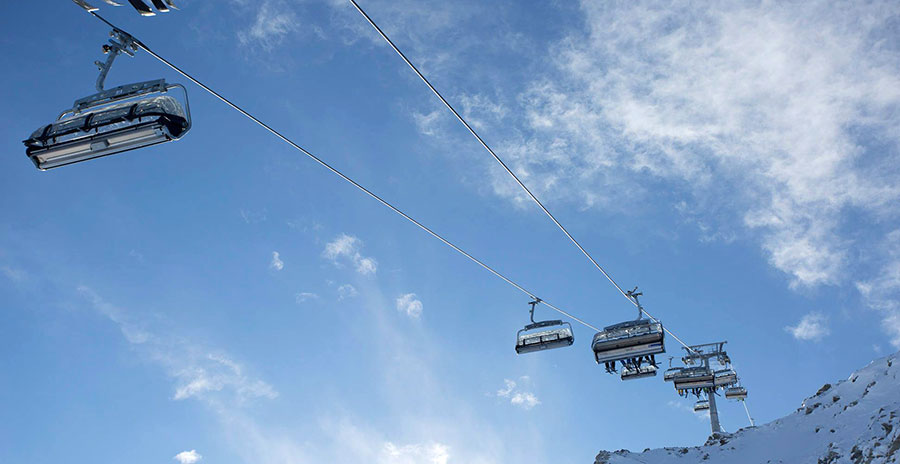 Hintertux, Austria, 25km of slopes open under blue skies...
A hint of snow in the European forecasts...
The mountains are waiting for us... be patient, stay safe and follow your local advice and rules on travel.
The Snow Headlines - 1st October
- Number of ski areas open in Europe doubled compared to a month ago.
- Half a dozen Swiss ski areas are set to open in October.
- Ski areas in Australia and New Zealand extend season into October.
- Around half currently open ski areas are in Austria's Tirol region.
- 2021 season all but over in South America.
- North America's 21-22 season expected to get underway this month.
- Australia's largest area closes early due to lockdown.
October is an exciting month for the northern hemisphere's ski areas as more and more ski areas begin to open and skiers watch for reports of early snowfall that might get bases starting to build ahead of the main season now just a couple of months away.
The 2021 season is in full wind-down mode in the southern hemisphere, with ski centres in South Africa already closed and most of those in the Andes now having ended their seasons too. In Australia and New Zealand, ski areas came out of lockdowns last month and have been making the most of the final weeks of winter with several announcing plans to extend their seasons further into October. That's except for ski areas in Australia's New South Wales which began a new sudden 7-day lockdown on 30th September, leading the largest area there,
Perisher
, to announce "Season over."

A little snow in the forecast for Europe, and a lot for Iceland!
Re-publication :- our Snow Report Summary, being the text above this line, is free to re-publish, but must be clearly credited to www.J2ski.com with text including "J2Ski Snow Report" linked to this page - thank you.
The Alps
Whilst it's a nervous time in the Alps as countries and resorts announce their operating plans for the coming season (with pandemic fears and what happened last year weighing on people's minds), there's also little to report in terms of early snowfall so far. There have been a few 5-15cm accumulations but warm temperatures have melted away any gains so far.
As a result, although the number of glacier areas open has doubled from 4 to 8 compared to this point a month ago, some famous names you'd expect to be open by now have delayed. Most notable is perhaps the
Stubai
which announced early in September that it opened in September 80% of the time... but has been a bit muted since – it seems this year is one of that 20% it hasn't made a September opening.
It's very different to 2020 when accumulations of up to a metre in late September had some areas announcing they were opening more than a month early. But things can change quickly at this time of year so fingers crossed they do soon.
So where's open already? Well even without Stubai, Austria's Tirol region leads the way with half of the open areas so far – the
Hintertux
,
Kaunertal
Pitztal
and Solden glaciers are all up and running for 21-22 with Solden of course due to stage the opening events of the 21-22 World Cup season later this month (23rd-24th).
In Italy Passo Stelvio, which has been open since the spring, has been joined by
Val Senales
. The other two centres open are the Swiss resorts of
Saas-Fee
and
Zermatt
with nowhere open in France yet.
What's open is fairly limited, Hintertux claiming the most with 25km of runs, but most just a couple of kilometres each. There have been warnings of very hard-packed ice by some centres.
Opening dates are getting set back by some early-opening ski areas but the number of open areas should at least double again by the end of the month, all being well. Two more Austrian resorts,
Kitzsteinhorn
and Stubai, will hopefully open on the 10th and the temporary closed Molltal glacier may also re-open any day.
Then Kitzbuhel aims to use snowfarming to open a few runs at the end of the month.
The 21-22 French ski season should start in Les 2 Alpes on 10th October, initially for pro skiers and snowboarders booked for training only but then from the 23rd to 7th November for everyone, conditions permitting.
Tignes
aims to open permanently for the season from the 16th.
The 16th should also see Cervinia re-open with access to the slopes shared with Zermatt.
Then a number of Swiss areas should open in the final week or so of the month. Some are not confirming dates and will wait to see how the snow goes but the
Diavolezza
Glacier near St Moritz has said the 23rd and Crans Montana, as well as the Gemmstock, freeride area at
Andermatt
the 30th.
Other Swiss resorts that may open if conditions are good include
Engelberg
, Glacier 3000 near
Gstaad
,
Laax
and
Davos
.
Northern Europe
Ski areas in Scandinavia have been posting images of fresh snowfall on higher slopes in the final weeks of September. That's good news for the region's highest area, the Galdhopiggen summer ski area in Norway which has been closed on and off since July due to warm temperatures melting the snow. It has been trying to re-open in September but had more weather issues including gale force winds. It does hope to open this Saturday, October 2nd.
The season is due to start in Finland, at both
Levi
and
Ruka
, on Friday 8th October, thanks to snow farming – reusing snow stored over summer from last winter and spread back out on the slopes.
North America
The North American ski season will hopefully kick off in October as it usually does.
There's nowhere open there as we start the month but high-altitude ski areas like
Arapahoe Basin
, Loveland and
Keystone
in Colorado are starting snow-making with Keystone saying it definitely has the intention to open as early in October as possible.
Things were looking good in the final days of September with mountain tops across the Western US turning white and some resorts in Colorado seeing a measurable few inches of fresh snow. There's also been some snowfall to increasingly low levels at times across Western North America, particularly up in Alberta and BC in Canada, although so far it has mostly been of the kind that melts away again in the heat of the day.
Other candidates for October openings include
Wolf Creek
, also in Colorado, which has been first in the race to open several times. The only ski area known to have actually set an October target opening date is Canada's
Lake Louise
, aiming for the last weekend of the month.
Asia
There are not usually any ski areas open in Asia in October other than indoor resorts, however, some small centres in China and Japan do use all-weather snowmaking to open a run or two this month in a normal season.
In China, with the Olympics coming up they're likely to be keen to be first to open there, in Japan with the pandemic still a major issue in day to day lives, perhaps less so.
Southern Hemisphere
Australia
The surprise season extension in Australia so far has come from one of the world's most southerly ski areas,
Ben Lomond
in Tasmania. It's also one of the few that haven't been in lockdown this winter. It has announced plans to hopefully stay open through the country's October school holidays to October 10th.
New South Wales went into lockdown on September 30th effectively ending the season there. Most of the rest of the Australian mainland's ski areas in
Victoria
will close on Sunday, October 4th.
New Zealand
New Zealand has had a weather roller-coaster through September since the country came out of lockdown in the middle of last month and ski areas were allowed to re-open. They've had good snowfalls, wet snowfalls, rain, fast thaws, freezing and gale force winds to contend with, as well as the odd lightning storm. So quite a few weather closures and now most of the smaller centres as well as some bigger players like
Treble Cone
are closed (or closing after the first weekend of the month).
But the country does usually have centres staying open longer into spring than anywhere else in the southern hemisphere and Mt Hutt, which has had the world's deepest snow base for much of the past four months at over 2.5 metres up top, has announced a season extension to October 21st.
Turoa and
Whakapapa
on the North Island also usually stay open to late October and sometimes in to "Snowvember." They announced on 23rd September that was their intention, snow cover permitting.
South America
Most ski areas in the Andes of South America are now closed for the season. Las Lenas in Argentina missed its second full season completely, although this year it was more due to a lack of snow for most of the season than pandemic restrictions.
Portillo
had said it wouldn't open for a second winter due to ongoing pandemic restrictions on international travel there but then surprised everyone by opening to locals only for the first three weeks of September after a big snowstorm.
Watch our news feeds for more information as - hopefully - snow starts to arrive in the next week or two...