J2Ski Snow Report 27th January 2022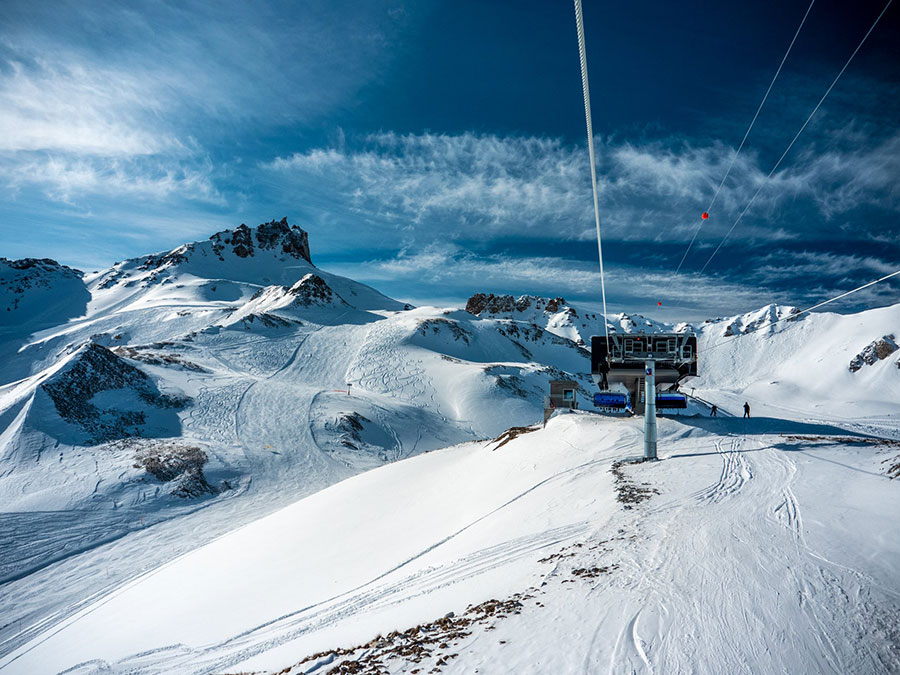 Val d'Anniviers, Switzerland, this week...
Snow in Eastern Europe, Scandinavia and USA...
The Snow Headlines - 27th January
- The best snowfall for several weeks for parts of the Alps, but other areas stay sunny and dry.
- Very cold weather continues in north-eastern North America, warmer in the northwest.
- Southern hemisphere – Australia, New Zealand and Argentina – see first snowfalls of 2022.
-
Sochi
in Russia posts Europe's snow depth at 3.3m (11 feet).
- Heavy snowfall in western Norway
A little more wintery in Europe than it has been for much of January, with strong winds impacting much of the continent at the weekend and heavy snowfall for parts of the northern Alps with ski areas across much of Austria as well as further east in the Czech and Slovak republics doing well.
Scandinavia also reported what were the first big snowfalls of the winter so far in Western Norway. Down in Bulgaria, Greece and Romania there was plenty of fresh snow too.
Other parts of the continent stayed dry through – the Dolomites, the Pyrenees and much of France, as well as Scotland, remained sunny as they have been for much of January. This isn't a problem in terms of open terrain for most areas thanks to December snow accumulations still providing a decent depth, only Scotland has no snow other than small areas from all-weather snowmaking machines.
Over in North America, much of the West of the continent has been fairly dry and sunny too but the East has been very cold and frequently snowy so things are looking much better there.
Snow has also been reported across areas that don't usually get it very often, or as heavy as it has been over the past week. Locations including northern Iraq, Istanbul in Turkey and the Greek islands turned white and Israel's one ski area on Mt Hermon was closed due to snow on the access roads.
There was also snow for the southern hemisphere reported at the end of last week on high slopes in the Andes as well as in Australian and New Zealand ski slopes. It's mid-summer there so this is the first snow of 2022 with the ski season start still six months away.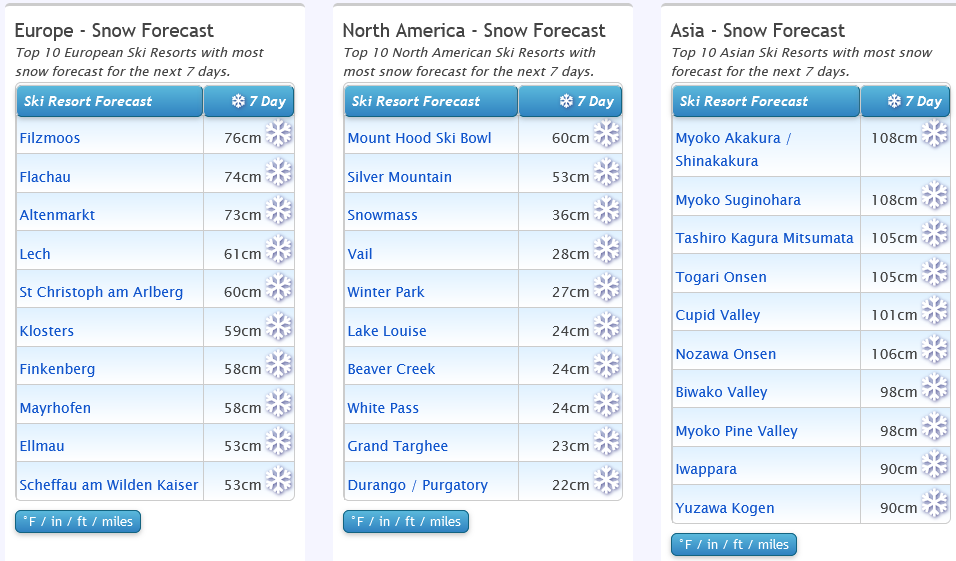 Austria, USA and Japan leading the forecasts...
Re-publication :- our Snow Report Summary, being the text above this line, is free to re-publish, but must be clearly credited to www.J2ski.com with text including "J2Ski Snow Report" linked to this page - thank you.
World Overview
Europe
Austrian ski areas have seen some of the best snowfalls in Europe over the last week, with the heaviest last Friday-Saturday and another front set to bring more snow this coming weekend too.
It's part of a change to much snowier conditions which saw the downhill and slalom races at Kitzbuhel switched around at the weekend with the slalom run in the usual downhill spot on Saturday due to the challenging snow conditions and strong winds (which temporarily closed several glacier centres). The resort reported a metre of snow had to be cleared from the Streif downhill racecourse on the Sunday morning.
So all in all it's an improving picture for the start of February next week with fresh snow everywhere and almost all areas fully open.
France
It has been another largely sunny week in France. Some ski areas did see a little snowfall at the end of last week and the start of the weekend but for many, it has been another largely sunny seven days.
Although temperatures have been getting a little warm in the lower valleys in the afternoon, overall resorts and skiers seem very happy with most slopes open, decent snow depths and good weather. It's only off-piste terrain that is lacking fresh powder now almost everywhere.
The country's larger ski regions are almost all running at 85-95% of their slopes open.
Italy
Italy too has seen a largely sunny week with most of the country's ski centres reporting wall to wall sunshine. The only real issue, besides lack of fresh snowfall, was strong winds at higher altitudes through the weekend and at other times.
Although areas of spring-like green colour in the valley floors are creeping up the mountainside and snow depths aren't spectacular, most ski areas have plenty of snow to open all their runs and some, including the Milky Way (Via Lattea) straddling the French border report more runs open now than they've had all season to date – up from 70 to 80% of their 400km+ of runs.
Switzerland
Swiss ski areas are reported to be doing bumper business thanks in part to the country not having quite the onerous levels of restriction on daily life that the other alpine nations do with the omicron variant. It too has not seen much fresh snowfall over the past week with largely sunny skies in the mountains and temperatures climbing above freezing in the valleys.
Snow levels appear to be below the norm for late January but still, most resorts have enough cover to open almost all of their terrain and most are happy to have good weather.
Engelberg
has the deepest base at 2.4 metres, with
Verbier
(& 4 Valleys) and
Zermatt
(& Cervinia) each posting the largest amounts of terrain open with 360km and 280km of slopes open respectively.
Scandinavia
Some areas in northern and western Scandinavia have reported their best snowfalls of the season so far with cold air hitting coastal precipitation to dump 25-50cm of snow on slopes at the start of this week.
Overall conditions are the best they've been of the season so far in most parts of the region with wintery conditions and a little more daylight as we head into February. Are in Sweden has the largest amount of terrain open and now has about 90% of its slopes accessible, the highest percentage of the winter so far.
Pyrenees
The Pyrenees will see out an almost entirely sunny January next week but are still reporting Europe's deepest snowpack thanks to snowfall in December.
All of the ski slopes are open in Andorra and Spain and while the snow depth has dropped below 3 metres (10 feet) now in the French Pyrenees, it remains the deepest in Western Europe, with only ski areas around Sochi on the other side of the continent claiming deeper.
Around 200km of runs are open at Andorra's
Grandvalira
, 160km (100 miles) at Baqueira Beret in Spain – in both cases pretty much everything.
Scotland
There are signs that winter proper may arrive in Scotland over the coming week, with just small snow areas at the basses of the five highland centres, thanks to all-weather snowmaking machines.
Eastern Europe
Ski areas across Eastern Europe have been reporting some decent dumps over the past seven days with
Vitosha
in Bulgaria and Jasna in Slovakia among the centres reporting 30cm (a foot) of fresh at the weekend. So things are looking pretty good, on the whole, in most areas with the most terrain open of the season so far. Many other areas in the region reported 10-20cm of fresh snowfall.
North America
Canada
There's not a great deal of change on a week ago.
The big picture is that it has been fairly warm by the region's usual January standards in Western Canada but very cold in the East.
There's not been much fresh snowfall, other than in
Ontario
and Quebec although some centres there have had closure days due to dangerously low (-30C or colder) lows at times.
In the West, there's plenty of snow and indeed there has been a high avalanche warning as the warm temperatures hit a deep snowpack but for most resorts in Alberta and BC, the temperatures remain just below freezing so very nice conditions indeed.
Whistler Blackcomb
has thin cover at its base but is almost 100% open offering North America's largest ski area.
USA
The main areas of the US seeing snowfall over the past week have been in the East with several ski areas in New England reporting over a foot of fresh snow since the weekend. Temperatures have also remained very low so after the warm conditions of November and December, it is very much a wintery picture now.
That is almost the reverse of the picture in the West where the snowy end of 2021 has been followed by a mostly dry and sunny January. There were a few inches of snowfall high in the Rockies this week but mostly it has been wall to wall sunshine again and good conditions on the groomed runs.
The sunshine and lack of snow have been reflected by the deepest base in the country/continent dropping below 14 feet/4 metres for the first time in early January with 13 feet (395cm) on higher slopes at Mammoth.
For the week ahead much of the country looks to be staying cold with a mixture of sunshine and cloudy days with the next chance for snowfall around the start of February Monday-Tuesday in both East and West.