J2Ski Snow Report 4th August 2022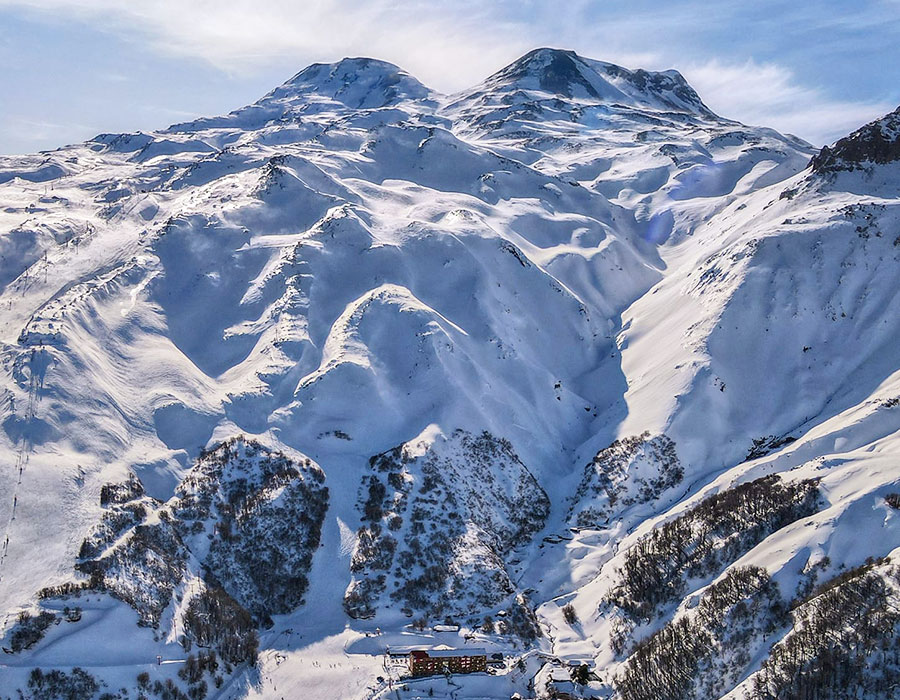 Nevados de Chillan, Chile, has over 3 metres snow depth right now...
Wild weather and snow for Australia and New Zealand
The Snow Headlines - 4th August
- Snowstorms hit Australia and New Zealand bringing powder after gales and rain.
- Apex ski resort in Canada evacuated due to wildfire.
-
Hintertux
glacier the only one still open to the public in the Alps.
- Japan's Gassan, the last Asian ski area still open, ends 2022 ski season.
- Fresh snowfall reported in Lesotho, Southern Africa.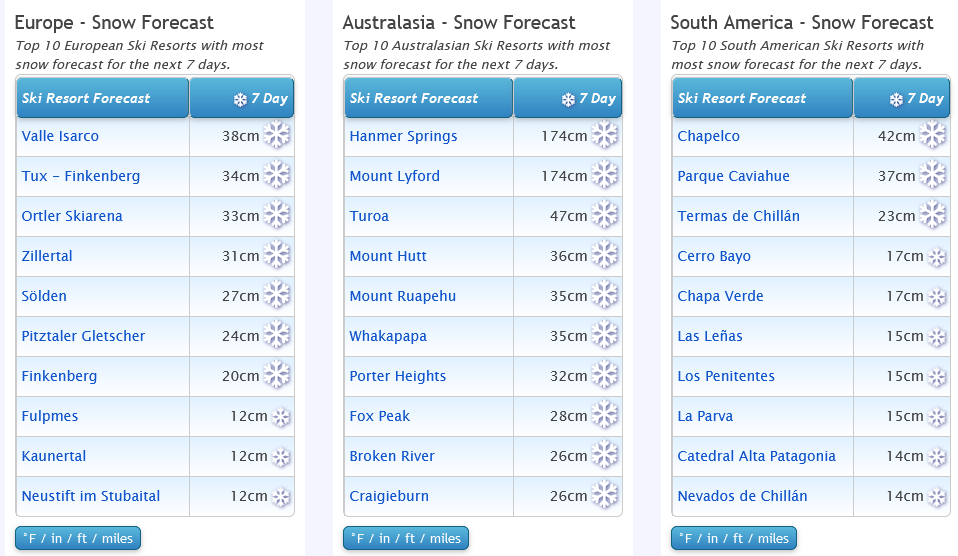 Big snow possible for South Island, NZ and a dusting at the top in the Alps
Re-publication :- our Snow Report Summary, being the text above this line, is free to re-publish, but must be clearly credited to www.J2ski.com with text including "J2Ski Snow Report" linked to this page - thank you.
World Overview
Australia and New Zealand have seen the most snowfall over the past week with some ski areas in the latter seeing as much as 60cm (two feet) in total through multiple storms over the last seven days.
Once skies have cleared and roads and lifts dug out there have been some spectacular powder days between the storms. The storms themselves have brought very strong winds and blizzard conditions at times though, closing centres for a day or two whilst they blow through.
Australia is, unfortunately, now being hit by another huge storm but this time with warmer temperatures bringing rain initially, turning to snow at the weekend though.
In Europe, continuing warm weather at high altitudes continues to impact summer skiing and is causing anxiety for those ski areas due to open for autumn glacier skiing next month. Only one resort is open (to everyone) in the Alps, an all-time low, but there are two summer ski centres to choose from in Scandinavia.
Elsewhere,
Timberline
remains the only centre open in North America and the final area that had still been open in Asia, Japan's Gassan, finally ended its 2022 season on Sunday.
Australia
A week of heaven then frustration it seems for Australia's ski areas. The good conditions that have dominated the season so far continued through the weekend and were boosted by a 15-20cm snowfall giving powder conditions on Monday morning.
Hotham
hit the 1-metre snow depth mark and
Perisher
had every lift turning, every run open. But things have taken a downturn over the past 48 hours with gales and rain showers impacting the snowpack and several resorts including
Thredbo
closing for the worst of it.
Things should improve as we approach the weekend though with the weather cooler once more and a return of snowfall to end the week.
New Zealand
New Zealand has had a similar weather roller coaster, although that's less unusual there.
Here too there was a fresh snowfall, but with 20-40cm totals and a little earlier – in time for the weekend. So conditions were sublime Sunday-Monday. But many areas were closed Tuesday-Wednesday as the next storm moved through, bringing some very violent wind gusts as well as more snowfall – in other words, blizzard conditions.
The overall picture is good though with most of the country's ski areas including the main players like
Cardrona
, Mt Hutt and
Treble Cone
sitting on healthy bases and with everything open (when storms allow). Mt Ruapehu on the North Island (
Turoa
and whakapapa) which has had a slow start to its season for lack of snow has also benefitted from the snowfall and is rapidly opening more terrain.
South America
It has been a quieter week in South America with plenty of sunshine, although the last few days have seen a front bring decent fresh snowfalls to many areas. The continent's largest area, Catedral near
Bariloche
, continues to offer the most terrain currently open in any one area in the world with around 50 miles (80km) of slopes open.
Over in Chile the southerly ski area of Nevados de Chillan is posting the deepest snow in the southern hemisphere at 3.5 metres up high while the famous resort of
Portillo
has announced its famous Roca Jack extreme run is open for the first time in three winters.
Africa
August has started well at Afriski in Lesotho with several snowfalls over the past week. These caused minor overnight access problems that were soon cleared and helped replenish snow cover on the main run which has also been topped up with snowmaking. The season here is due to last to the end of the month.
Europe
We have the previously unheard-of situation of there being more ski areas open in Scandinavia than the Alps this week, although the numbers are low: 2 to 1. The
Galdhøpiggen
summer ski centre is believed to have re-opened after a three-week shutdown to "preserve the snow". It joins Norway's other open summer ski area, Fonna.
In the Alps, only one ski area remains open, just, although as the heat continues it's unclear if it will be able to continue through August. The (hopefully still) year-round ski area of Hintertux has a few kilometres of runs still open up high with less than a foot of snow cover remaining.
Saas-Fee also has a small part of its glacier open but continues to restrict access to race teams' training. Britain's Dave Ryding was seen there this week.
North America
Timberline ski resort on Mount Hood in Oregon remains the only ski area open in North America with skiers and boarders continuing to enjoy the snow on its Palmer snowfield – scheduled to remain open for much of this month. The snowpack there is down to about six feet having been triple that three months ago, but then it has been a long hot summer.
Unfortunately, wildfires continue to emerge across North America, sometimes close to ski areas, with
Apex Mountain
in BC the latest to be at risk. The 200 or so people who live in the resort year-round were evacuated on Monday.