J2Ski Snow Report 11th August 2022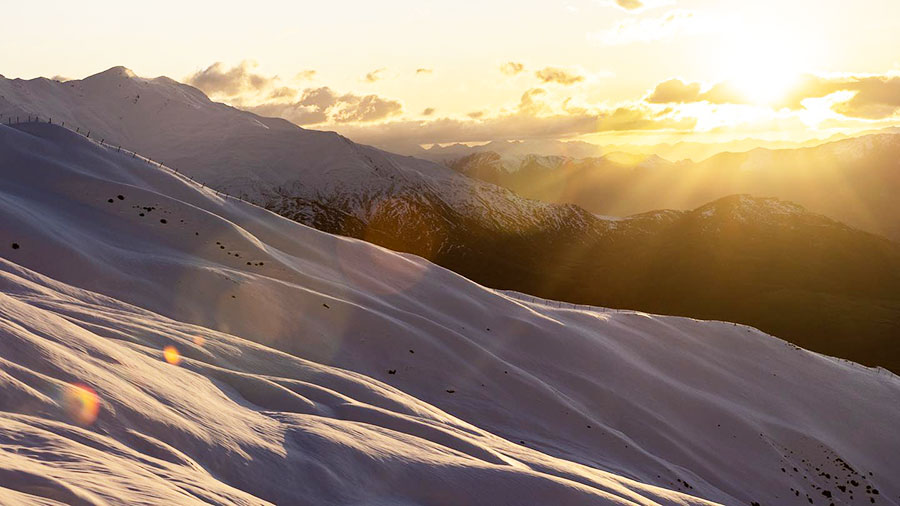 Treble Cone, New Zealand, now plans to be open into October. Nice!
Snow in the Andes, and more wild weather for Australia and New Zealand
The Snow Headlines - 11th August
- Fresh snowfall in Australia after a major storm closes slopes with rain and gales.
- The last ski area open to the public in the Alps still hanging on despite warm temps.
- First significant snowfall for several weeks in the Andes.
- The last area still open in North America announces closing day.
- First fresh snow of 22-23 reported on mountain peaks in Northern Alaska.
- Norway's Fonna latest to announce summer ski closing date on 21 August.
- More storms hit New Zealand, with significant snow showers then great conditions.
- New Zealand's
Treble Cone
extends ski season by a week to 2nd October.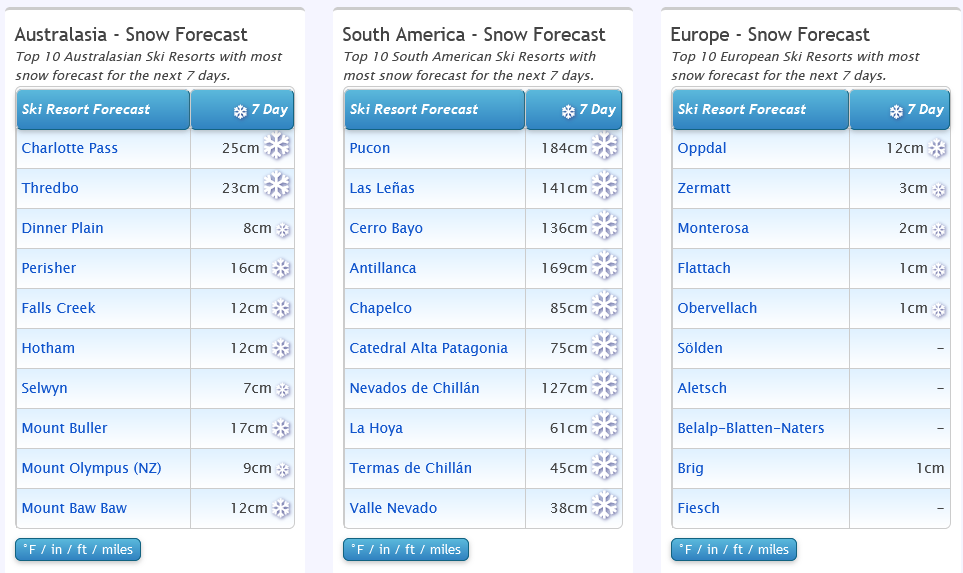 A lot of snow on the charts for South America, and some top-ups down-under!
Re-publication :- our Snow Report Summary, being the text above this line, is free to re-publish, but must be clearly credited to www.J2ski.com with text including "J2Ski Snow Report" linked to this page - thank you.
World Overview
It has been a snowy week for most ski centres in the southern hemisphere with resorts in Australia, the Andes and New Zealand all reporting considerable fresh snowfall.
Unfortunately, this arrived with stormy weather, most damaging in Australia where the huge storm that hit at the end of last week was not very wintery – but warm, wet and windy for its first 48 hours. It did though deposit snow in its final day which repaired much of the damage.
In the northern hemisphere the impact of the record-breaking summer temperatures at altitude continues to be felt. Only two centres remain open to the public, with just one in the Alps, and its conditions for operating are marginal in the extreme. The only positive is a slight drop in temperatures hopefully marking a change to something more sustainable for the ice.
Two centres are open in Norway still but one only to race teams, the other announcing it'll end its season in just over a week. The last area open in North America,
Timberline
, has announced its season will also end the weekend after next, but by then it'll be less than two months until the 22-23 season should kick off in Colorado and elsewhere.
Australia
After a relatively stable first half of the season with most areas fully open thanks to excellent early season snowfall, Australian resorts had a bit of a shock to the system as a huge storm hit on Thursday/Friday last week, just as our last report came out.
Unfortunately this was more of a warm and wet storm rather than a wintery one and the result was water damage to snow surfaces and some localized flooding. By Friday night though temperatures had dipped and fresh snow was dumping, for a good re-set.
On Saturday morning
Perisher
reported 15cm (6") of fresh snowfall,
Falls Creek
17cm (7") and Mt
Hotham
28cm (11"). Snow showers have continued since but at a more measured rate.
New Zealand
While the wild weather in Australia and South America (see below) is not such a frequent occurrence, in New Zealand it is very much the norm and we've had another week of highs and lows – in both weather systems and mood!
Multiple systems have moved through once more bringing further heavy snow showers (some centres have again posted more than half a metre of fresh this past week in total). The snowstorms and accompanying gales have, once more closed access roads and/or slopes/lifts prevention centres from operating until these were cleared and made safe.
In the days between though there have been more epic powder days. Resorts posted up to 50cm of fresh snow and winds dropping on Wednesday for fantastic conditions.
Mount Hutt
now has over 1.5 metres of snow lying on its lower slopes,
Temple Basin
has double that up high. It has, once more, been the South Island benefitting the most with Ruapehu still running behind on terrain it has been able to open so far – though it is a steadily improving picture.
South America
Most ski areas in Chile and some in Argentina were hit by a major snowstorm at the start of the weekend with reports of up to 28cm (11") of snowfall in 24 hours. The world-famous centre of
Portillo
was one of the big winners although Nevados de Chillan to the south continues to post the deepest base in the country and the southern hemisphere with 3.5 metres (nearly 12 feet) of snow reported on its upper slopes.
Since the snowfall it's been back to dry and sunny conditions giving some great powder days. The next chance for snowfall looks to be early next week.
Africa
Lesotho's Afriski was in newspapers all over the world at the weekend as news agency The Associated Press ran a story contrasting the fact that people were skiing in Africa with the heat in Europe. The centre, which has a three month ski season that runs to the end of August, reported more snowfall to start the week, albeit rather wet stuff, but overnight lows continue to freeze the snowpack and allow for more snow making.
Europe
The picture in the Alps continues to be rather dire with webcam images showing the grey glacial ice completely exposed at former summer ski centres and temperatures remaining well above freezing to high above the altitude the ice lies at – a very depressing picture.
Hintertux
is the only resort currently open, just, maintaining a few white streaks of snow close to its upper station at 3,250m and maintaining its 'open-365-days' reputation (pandemic/weather permitting).
Zermatt, the other resort that had claimed that, remains closed while it awaits better weather, as does Italy's Passo Stelvio. It's believed that Saas Fee does have similar terrain to Hintertux on its higher glacier slope still open to race teams only though.
Looking for positives, overnight lows on glaciers are now getting back to freezing, even a degree or two below, so things appear to be moving in the right direction. There are two centres still open in Scandinavia, but the only one open to the public, Fonna, announced on Tuesday it would end its season early, a week on Sunday (21st August) and the other Galdhopiggen is operating like Saas Fee, only for pre-booked race team training.
North America
It has been yet another hot and sunny week in Western North America where the only ski area still open, Timberline on Mount Hood in Oregon, has announced it will end its ski season – which began last fall and is one of the world's longest at more than nine months duration – on 21st August, the weekend after next. For now though the centre still has about a mile and a half of runs open and a snow depth of about six feet.
When it closes we'll only be about two months away from the start of the 22-23 season, all being well, in Colorado, and early snowfall has already been reported this week on mountain tops in northern Alaska.